Benefits of MCT Brattberg E-systems
Protects against electrical and magnetic interference (EMI), "bugging", electronic sabotage (SEMP) and static electricity (ESD).
Assists cable management.
Integral earthing between cables and wall screen.
Also seals the penetration against the passage of fire, water, gas, sound and environmental hazards.
Special E-Series for Grounding and Bounding
System can be dismantled and re-used.
---
Overview
Similar to the standard frames RGSC come in eight sizes: 1, 2, 3, 4, 5, 6, 7, and 8. 
The internal width can be 60.5 ± 1 (Size 1,3,5,7) or 120.5 ± 1 (2,4,6,8).
Note that there can be limitations in type-approvals & certificates, making certain sizes inapplicable.
E-RGSC can also be supplied as multiple transits. Available in mild steel, stainless steel and aluminium. Special corner blocks and STG-endpackings with rounded corners are available.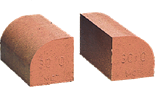 Cornerblocks (R20)
RGSC Corner Radius
Internal Radius
External Radius
R20
R30
R40
R50
R60
R70
Standard frames come in four sizes: 2, 4, 6 and 8. They are all the same width. Height differences are shown below. The material is 10 mm (0.39") thick.
The EMC secret is a tempered metal sheet which systematically stops electrical current from passing along the cable screening through the seal and successfully function as an extended wall screen. 
All dimensions are exactly the same for the standard MCT Brattberg components.
All Insert Blocks are marked with yellow marking (see instructions).