Technical specifications
Similar to the RGS Ex transit, it is available in sizes 2, 4, 6 and 8. RGSC Ex can also be supplied as multiple transits. Available in mild steel, stainless steel and aluminium.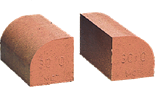 Cornerblocks Ex (R20)
Standard frames come in four sizes: 2, 4, 6 and 8. They are all the same width. Height differences are shown below. The material is 10 mm (0.39") thick.
RGSC Ex Sizes