Overview
On site testing available with a semi permeable layer.
Dimensional and visual inspected before delivery.
Tailor made according to the customer.
Can be tested up to 100 Bar.
Diameters: 
The RGPH system is available in six sizes designated based on the seal diameter (mm),
RGPH-50, 70, 100, 125, 150 and 200.
Services: 
Can be designed to seal 1-36 cables between 4-110mm in diameter, depending on pressure.
The RGPH has a high grade tubular steel housing which is welded into your application and the cables are individually sealed by insert blocks. 
RGPH can be designed to let any amount of cables though. As it is built on a modular system the number of cables through the penetration can easily be increased or decreased.
Each RGPH is designed specially to the customers need.
RGPH high pressure seal is available with flange for bolting or without flange for welding. The RGPH is frequently used in offshore installations and in different types of submarines.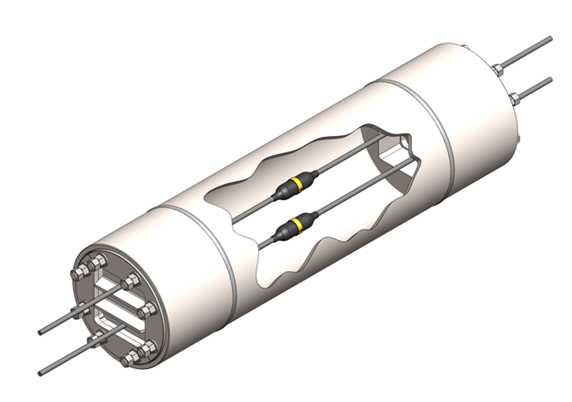 RGPH is often combined with Longitudinal Sealing Cable Joints as protection against incoming overpressure media/water through the pressure hull, vessels or barriers via the cables which have been damaged or cut
Inspection and tests:
Dimensional and visual inspected before delivery. Additional tests can be performed to clients specification. It can be equipped with a tightness test function, a semi permeable layer which allows on site tightness testing after installation.
Certificates and reports:
Factory Inspection and Test Report Certificate (optional).
Material Test Certificate.
Type Approved by DNV-GL and ABS.
Approved in Tanks for pressure up to 40 Bar.
Decks and bulkheads for pressure up to 66.7 Bar.
Instruction:
A detailed instruction manual is supplied with the RGPH.
RGPH material:
Hardware: Mild steel, stainless steel 316L or hardware in alloy 625.
Insert Blocks: Nitrile