Overview
Tailor made.
DNV-GL and ABS type approved.
Diameters:
Available in diameters 50 to 200mm for 15 bar water working pressure.
25 to 675mm for 3.3 bar water working pressure.
Services:
Seal cables/pipes/tubes diameter 4-400 mm.
Seal multiple cables/pipes through on hole.
Can be made with a revolving core for easier pipe sealing.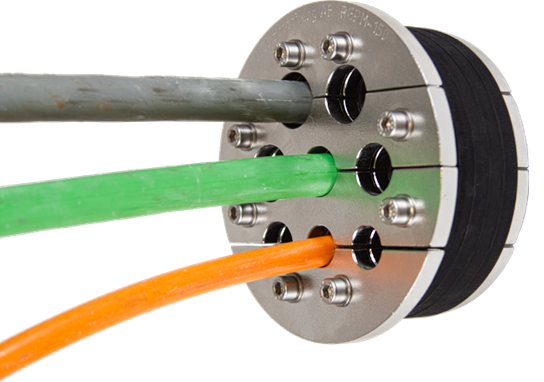 The design of a RGPM is made according to customers specification.
The outer diameter of the RGPM pressure seal is designed to match the inner diameter of the pipe or hole into which the unit is to be fitted.
The seals are normally made from Nitrile rubber but other material can be used. Fittings are either stainless steel, hot galvanized or in other materials according to customers requirements.
The RGPM can also be installed and blind packed for installation of cables or pipes at a later stage.
In installation where the pressure could vary, a self-sealing version of RGPM can be used. The seal adjust itself according to the pressure.
Inspections and tests:
Dimensional and visual inspected before delivery. Additional
tests can be performed to clients specification.
Certificates and reports:
• Factory Inspection and Test Report Certificate (optional).
• Material Test Certificate.
• Type Approved by DNV-GL and ABS for pressure up to 15 bar.
Instruction:
A detailed instruction manual is supplied with the RGPM.